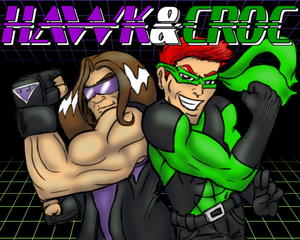 Welcome to the Wiki
[
]
Welcome to the Hawk & Croc wiki, your one-stop source for every bit of information related to the Hawk & Croc Universe characters and comics! Please be forewarned that reading too far into the articles may reveal spoilers! We highly suggest reading the comics found on HawkAndCroc.com!
About the Hawk and Croc Universe
[
]
On 01 March 2003, Psycho Andy and Brandon A. Mayo launched Hawk and Croc on Andy's website! Focusing on Dariaan Nighthawk and X-Croc, along with their friends, loved ones, rivals and enemies, the series blended slice-of-life comedy with superhero action. After the first year and half of stories, the creators flashed back to the heroes' days in high school in Hawk & Croc's School Daze, before returning back to the present-day.
After five years, they ended the series.
The following year, film maker Alex George Pickering contacted Andy, and they began to weave a dark, gritty tale of a city so dysfunctional, its heroes don't even get along! Can Dariaan Nighthawk help Kid America bring order to this chaos?
In 2011, Andy and Brandon reunited to tell three new tales:
Lil Hawk & Croc: In the grand tradition of Muppet Babies, Flintstones Kids, and A Pup Named Scooby-Doo, read this whole new take on the Hawk & Croc characters, as they deal with the pressures of childhood! Created by "Psycho" Andy Costello and co-written by Brandon A. Mayo. Updated every Monday.
Hawk & Croc & Friends What do the other characters in the H&C Universe do when the titular characters aren't around? Find out, in this series written by Brandon A. Mayo & Psycho Andy, with art by our friends! First up: BANK ROBERT GOES TO HELL, drawn by the incomparable Wesley Griffith!
Hawk & Raven: After leaving their friends, Hawk and Beth move to Justice City, where a crime syndicate has taken over. Can the betrothed heroes make it through their first year as a crime-fighting duo? Written and drawn by Psycho Andy, with creative input from Brandon A. Mayo.
Finally, in 2012, Brandon and Andy brought back the original heroes in New Hawk & Croc, a more action-packed series! There was a brief interlude in 2015 when they decided to tell the tale of Hawk & Croc's daughters in Generation 2 before returning to and finishing the final two chapters of New Hawk & Croc.
The comic has been on hiatus since 2018, but with the 20th anniversary on the horizon, could a celebration be far behind?
Latest activity
[
]